Bicycle saddles designed from research and experience, the shape of this saddle is intended to avoid conflict with leg movement yet provide endurance ride comfort. Kontact founder Andrew has put his considerable knowledge of anatomy into making this saddle supportive in precicesly the correct way: blood circulation "down there" is apparently increased fourfold. It does this through a flatter wide section that puts most of the support under the sit bones whcih are intended to take the weight of the upper body and sculpting away material which would at best interfere with leg lovement or at worse apply pressure where it is not needed or desrable. The result of the design philosophy is a much more angular looking seat whose comfort is deceptive. We have just handed one over to our tame sportif rider so watch this space for a more complete review.
MATERIALS
Color: Matte black with black gloss lettering and white stripes
Now upgraded to all premium materials!
Natural leather cover
Carbon reinforced base
Hollow Chromium/Titanium alloy rails
Ultra-light foam padding
DIMENSIONS
L= 10.5 (267mm)
W= 5.25 (133mm)
THis saddle was recently given an 8/10 from Road.cc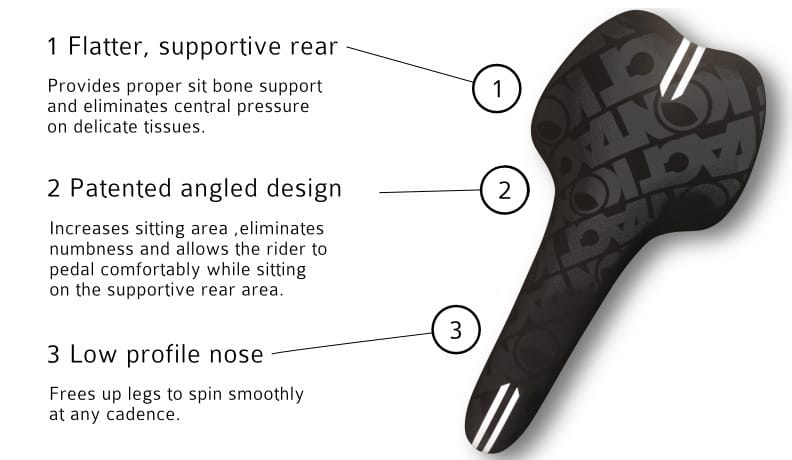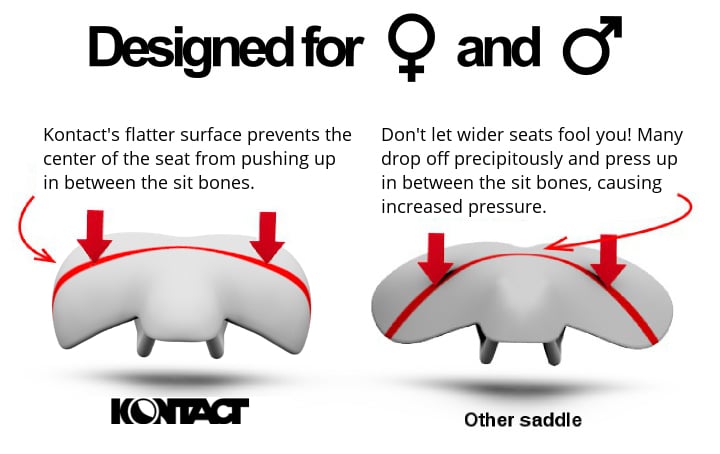 Own this product? Let us know what you think.
| | |
| --- | --- |
| Brand | Kontact |
| Weight | 0.25kg |